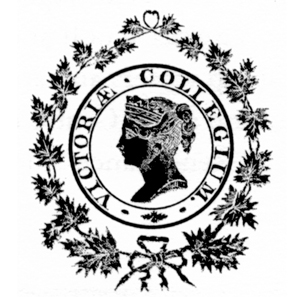 The theme we have decided to focus on this month for our blog is Victoriana. Last weekend, we celebrated Victoria Day (with fireworks!)—a public holiday that celebrates the reign of Queen Victoria (1819–1901), who ushered what came to be known as the Victorian era of the British Empire. Queen Victoria holds a special significance to the Vic community, as our home, Victoria University, is named after her and our crest (on the left) bears her likeness. The crest derives from several prize bindings from the library's rare book collection. These items can be requested at the inquiry desk on the first floor:
Did you know that the library also holds an extensive collection relating to the history of Victoria University? The holdings in Victoriana include books, magazines, newspapers, pamphlets and other documents, some of which have been digitized.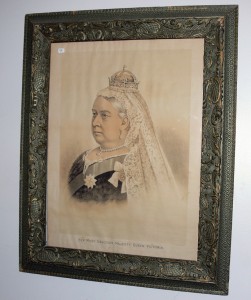 At the annual book sale, we always have a large and varied selection of books on royalty. In addition, this year we have a special treasure available: a beautiful large framed antique lithograph of Queen Victoria.