On Tuesday February 26th, please join us at 2 p.m. at the Lillian H. Smith Public Library on College St just east of Spadina Ave as we discover many unique items that are part of the Merril Collection of Science Fiction, Speculation & Fantasy.
This research collection began as a donation of approximately 5,000 items from Judith Merril, a prominent science fiction author/editor.  Today it numbers more than 80,000 items including works of science fiction, fantasy and speculative fiction as well as magic realism, experimental writing and some materials in 'fringe' areas such as parapsychology, UFOs, Atlantean legends etc.  The Merril Collection is now recognized as Canada's major collection of speculative fiction and one of the world's finest popular culture collections.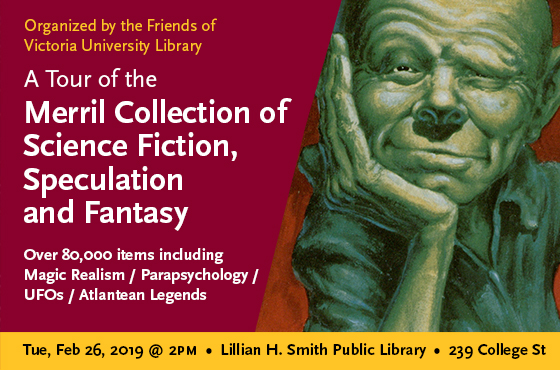 Join us for what promises to be an interesting and memorable tour!