Our 28th Year!
Victoria College Book Sale 2019
Schedule
The 2019 Vic Book Sale will run from Thursday, September 19th until Monday, September 23rd at Old Vic, 91 Charles St. W. (Museum Subway station).
Thursday Sept. 19
(First day only – Admission $5,
Students Free with ID)
2pm – 8pm

Friday, Sept. 20
10am – 8pm
Saturday, Sept. 21
11am – 6pm
Sunday, Sept. 22
11am – 5pm
Monday, Sept. 23
(All books half price all day)
10am – 8pm
All proceeds go to Victoria University Library.
Volunteers have processed thousands of books and tons of music… cd's, vinyl, sheet music and song books for the annual Vic Book Sale. Generous book donors have already donated a wide variety of titles in all areas of interest to entice book buyers to this wonderful event.
Check out last year's recap on our blog and what we have planned for the book sale this year!
Social Media Coverage (#VicBookSale): Instagram, Twitter
Student Rewards Program
Any student who gives the sale 3 hours of time will receive a $25.00 voucher for sale books. A student who gives 2 or more shifts will also be honoured at the Volunteer Appreciation Party in October.
Donation Drop-Offs and Book Pick Ups
Donations can be brought down to the EJ Pratt Library Tuesdays and Wednesdays between 12-3pm.
Pick-Ups will resume Monday March 4th, 2019
LAST DAY TO DONATE PRIOR TO SALE:
Wednesday August 1st, 2019.
Donation Guidelines
We appreciate your interest in donating books to the book sale—your donation will greatly benefit Victoria University Library. There are some criteria on what our volunteers are able to accept.
What we especially value is hard and soft cover books in all subjects in great condition.
Due to the nature of the booksale, we are unable to accept the following:
encyclopedia sets
journals or magazines
no Reader's Digest condensed books
discarded library books
outdated or underlined textbooks
any musty books
VHS Tapes
How to Pack Boxes
banker's boxes and liquor store boxers are preferable so our volunteers can lift them.
Delivery Days
Driving Directions
Drive north on Queen's Park Cresent East, past Wellesley and St. Joseph Streets. Turn right into the driveway just before the pedestrian traffic lights, north of St. Joseph Street (see map below and Google Street View). Then turn left into the library delivery entrance. Use the intercom to the left of the double doors.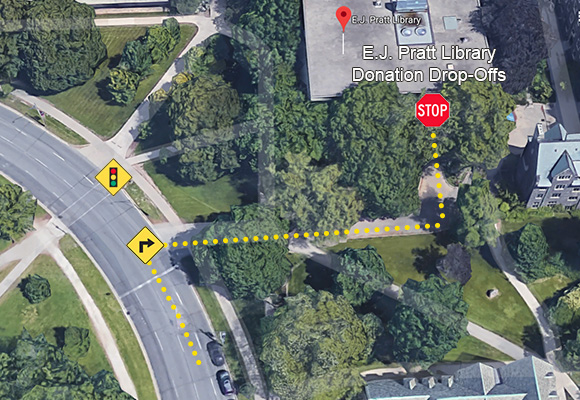 Please contact us if you have any questions about donations.
T (416)585–4585 or (416)585–4471
E vic.booksale@utoronto.ca