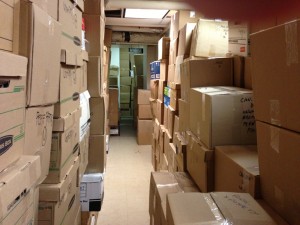 We are almost ready to go! We have thousands of books all priced and organized into sections. Our storage space is packed with boxes of books, records, and other treasures up to the ceiling!
The 2013 Vic Book Sale will run from Thursday, September 19 until Tuesday, September 24 at Old Vic, 91 Charles St. W. (Museum Subway Station).
Daily schedule:
Thursday September 19 (first night only—admission $3, students free with ID): 4:00 pm–9:00 pm
Friday, September 20: 10:00 am–8:00 pm
Saturday, September 21: 11:00 am–6:00 pm
Sunday, September 22: 11:00 am–6:00 pm
Monday, September 23 (all books half price all day): 10:00 am–8:00 pm
Tuesday, September 24 (box sale) 10:00 am–noon
All proceeds go to Victoria University Library.