HER MOST GRACIOUS MAJESTY QUEEN VICTORIA RECEIVING THE SACRAMENT AT HER CORONATION. 1841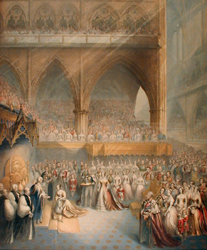 This picture, which includes about 200 portraits, was sketched by Baxter at the ceremony on June 28th, 1838 from the gallery occupied by the Foreign Ambassadors in the Abbey. He had been given special permission to attend.
The Patriot of May 17th, 1841 reported that "Mr. Baxter has taken no fewer than 200 likenesses from life, which will have the advantage over all other representations of the imposing scene of being literally accurate down to the minutest details."
The Times of that day commented on "The delicacy and softness with which the colours are blended, [being] equal to the very finest paintings."
The Queen is seen kneeling at the altar receiving the Sacrament at the hands of the Archbishop of Canterbury. On the right is the Coronation chair, on the left the altar, and on all sides distinguished persons in formal dress, jewels, uniforms and orders. On the left are three Archbishops and eight Bishops, and on the right the Duke of Wellington. Here are found many distinguished persons of that day, such as Lord John Russell, Lord Cottenham, Lord Palmerston, Lord Melbourne, the Duchess of Kent, the Duchess of Sutherland, Lady Flora Hastings, and many others.