THE RECEPTION OF THE REV. J. WILLIAMS AT TANNA IN THE SOUTH SEAS, THE DAY BEFORE HE WAS MASSACRED. 1841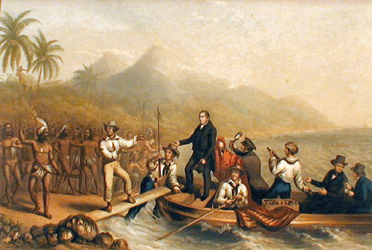 These are companion pictures. Baxter and Williams had become friends and Baxter thought "he could not better evince the sincerity of his regret for the loss of his friend than by dedicating his art and his labours to perpetuate the memory of so estimable a man."
The native who killed Williams had had his son murdered shortly before and he was waiting for revenge. He did not know Williams and Harris were missionaries. The club with which the deed was done is now in the London Missionary Society Museum. Tanna, discovered by Captain Cook, is an island of the New Hebrides group in the South Pacific.
THE MASSACRE OF THE LAMENTED MISSIONARY, THE REV. J. WILLIAMS, AND MR. HARRIS. 1841