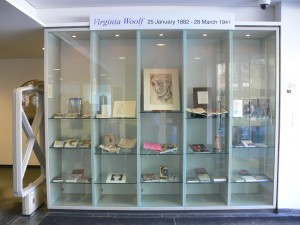 We hope everyone had a wonderful holiday, and a very Happy New Year ringing in 2015!
This month we are celebrating the 133rd birthday of none other than Virginia Woolf herself! Please check out our new exhibit in the foyer of E.J. Pratt Library, which launched last Monday January 12th, 2015, entitled Virginia Woolf @ 133 : An Exhibition of New Acquisitions to Honour the Author's Birthday. The exhibition runs until Monday February 9th, 2015.
 Highlights include an original portrait of Virginia Woolf by Duncan Grant, and an original preliminary sketch by Vanessa Bell for Flush, purchased with the assistance of the Friends of Victoria University Library.  Also an original, signed figurine in clay pottery by Quentin Bell, son of Vanessa and nephew of Virginia. The piece, titled Buy Me, Help Charleston was created  at Fulham Pottery, [ca.1980] presumably as a fund-raising venture for Charleston Farmhouse. This beautiful slice of history was also acquired with the assistance of the Friends of Victoria University Library.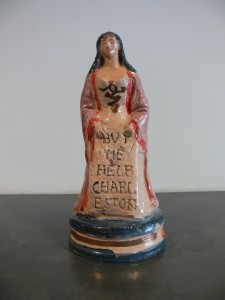 Other items include reproductions of art work depicting Virginia Woolf: paper dolls, a punk journal, a vinyl doll, the David Levine caricature, witty interpretations by the German artist Ulrich Klieber, as well as an original limited edition wood cut of Woolf by the Los Angeles artist Loren Kantor.
We even have translations on display of works by Virginia Woolf into such languages as Estonian, Bulgarian, Chinese, Lithuanian and Turkish!
In conjunction with this showcase will be the screening of the film Carrington, on Thursday January 22nd, 2015 at 7pm in Alumni Hall. The film stars Emma Thompson as Dora Carrington, and showcases through compelling narrative her unusual and passionate relationship with artist and author Lytton Strachey, played by Jonathon Pryce.  Set within the English countryside of WWI, the film also touches on relationships with other Bloomsbury group members.
Light refreshments will be served.
Please call 416-585-4471 or email: s.gough@utoronto.ca if you plan to attend.