Just in case you have never attended one of the Victoria College Book Sales, we thought we would give you an idea of the wide variety of books that will be available to you in a matter of just a few short weeks!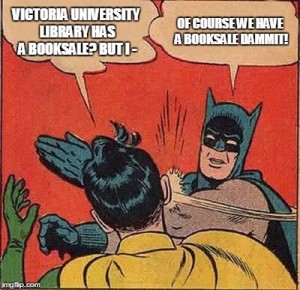 Ever wanted to delve further into the history of our society, or perhaps learn more about a certain culture? Our Anthropology, Sociology and Native Studies section boasts books on  ancient civilizations all the way to present-day cultural behaviours of our species.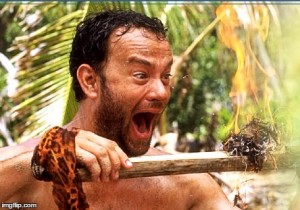 Do you have a secret fondness for reading about the intricate and dramatic lives of some of Hollywood's stars? Or perhaps you want to be inspired by the words of one of the world's prominent political leaders? Our Biography section, as well as our Essay and Memoirs section includes works written by many of this century's most important figures in the fields of Art, Science, Politics, and more.
It's hard to find a good variety of interesting books in a language that isn't English. But have no fear – our Foreign Language section will give you lots of opportunities to practice your other favourite languages. And this year we have lots of options for you folks hoping to brush up on your Portuguese!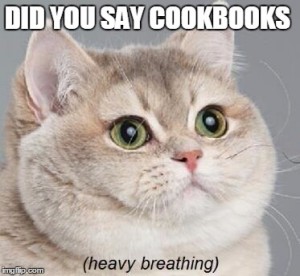 Feel like your meals are looking a little bland? Perhaps your "spanish omelette" is a great staple, but it's not impressing your dinner guests. We have cookbooks for everything from smoothies to soufflés, so that you can get creative in the kitchen!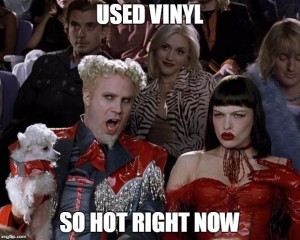 And if that isn't enough to get the wheels turning on possible purchases, keep in mind there are more than just books at the book sale – CDs, Vinyl, Sheet Music, and  Ephemera get music fans and collectors alike scrambling amidst the boxes.
A reminder to students: if your wallet is feeling especially light from all your recent textbook purchases, check out the book sale for some of your course material before buying everything brand new. We often receive donations from other students who have taken courses at Victoria College. You would be surprised at the amount of money you can save with a little hunting – and for you, opening night is free with ID!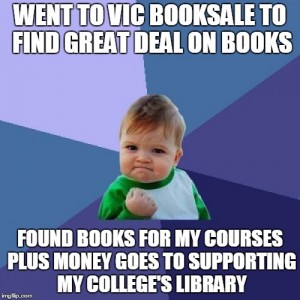 The full list is printed below, and with over 30 categories to choose from there is definitely
something for everyone. It's hard not to get excited for all the new additions that are sure to spruce up your personal library!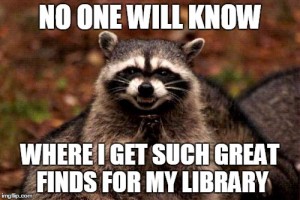 THERE ARE TWO FLOORS OF BOOKS:
MAIN FLOOR (1) & SECOND FLOOR (2)
Anthropology /  Native Studies / Sociology /   Education (2)
Art / Architecture / Oversize – (2)
Biography (including Royalty books) – (2)
Canadian History – (1)
Canadian Literature – (1)
Children's Literature – (1)
Classics (Greek & Latin Literature, Mythology, Archaeology, Egyptian & Graeco-Roman History) – (1)
Compact Discs, Video Cassette Tapes, DVDs – (2)
Cookery (including restaurant guides, wine & spirits) – (2)
Fiction, Paper & Hardcover – (2)

French / Foreign Language –  (1)
Geography / Natural History / The Environment – (1)
History – From Mediaeval to Modern – (1)
Large Print Books – (2)
Literature I Poetry, plays, Shakespeare related books – (1)
Literature II Classic novels, short stories,
Anthologies – (1)
Literature III Literary Criticism, Theory, Biography,
Essays, Memoirs – (1)
Medicine / Health – (2)
Military History – (1)
Miscellaneous (includes anything we can't otherwise categorize: homes & gardens, hobbies,sports, "how-to", humour, etc.) –  (2)
Mysteries / Science Fiction – (2)
Performing Arts (includes music, dance, film and
theatre but NOT texts of plays) – (2)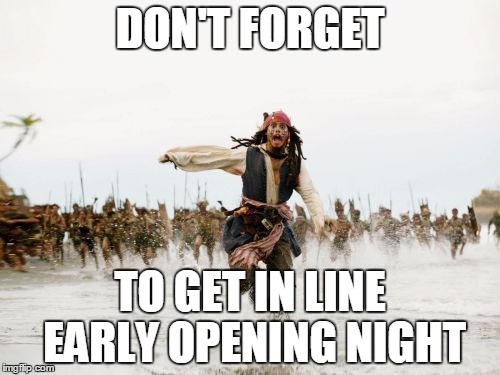 Philosophy / Semiotics / Linguistics – (1)
Political Science, Economics, Law, Business – (2)
Psychology – (2)
RARE BOOKS, Old/Special, First Editions, Prints,
Ephemera – ROOM 114
Reference (includes dictionaries, encyclopedias,
grammars, bibliographies, etc. N.B. Foreign
language dictionaries are on level 1 ) –  (2)
Religion – (2)
Science / Mathematics / Computers – (2)
Sets of Books – (2)
Travel – (2)
Vinyl – (2)
Women's Studies (Family, Gender) – (2)