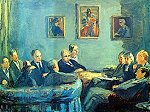 The Memoir Club, ca. 1943.
Painting by Vanessa Bell
(Rosenbaum, S.P. The Bloomsbury Group. Toronto: University of Toronto Press, 1975, cover.)
In The Memoir Club, portraits by Duncan Grant of Woolf and Strachey and one of Fry by Vanessa herself hang on the wall above an unposed, seated group consisting of Duncan Grant, Leonard Woolf, Vanessa and Clive Bell, David Garnett, Maynard and Lydia Keynes, Desmond and Mollie MacCarthy, Quentin Bell and E.M. Forster. Some sit with their backs toward the viewer, some look down, some away. Although the individuals are recognizable, they also blend into a roughly circular group. The Memoir Club is Vanessa Bell's grand historical picture. Her friends merge in space although the portraits of the dead evoke a temporal dimension.