Dangers in the Rockies : Surprise Rapids,
1888
The opening of the Canadian Pacific Railway in 1886 made British Columbian and Albertan mountain ranges accessible to alpinists. Hotels were built in choice locales such as Banff and Glacier House. Explorers, topographical surveyors and gold-seekers also benefitted by the improved access to the mountains as they continued to penetrate uncharted regions across the Rocky and Selkirk Mountains. Their adventures were recounted over the next few decades creating a national mountaineering lore.

A.P. Coleman was a prominent member of the Canadian alpinist circle. He relished recounting his scrapes and adventures of which there were many. A climbing incident features in the 1903 article,"The Brazeau Ice-Field."1
On this occasion, Coleman had been leading the descent, glissading down a glacier when he fell into a crevasse. Luckily his alpenstock crossed the chasm as he plunged down, supporting him and preventing a full fall. Tied to his fellow climbers by a rope, they were able to pull him up to safety.
The field notebooks are replete with descriptions of annoying "bulldog" flies and mosquitoes, trails through muskegs and stumpy trees, uncomfortable camp sites and Spartan, unappetizing meals. This kind of climbing was not for the fainthearted.
1. Coleman, A. P. "The Brazeau Ice-Field." The Geographical Journal (May 1903): 1-9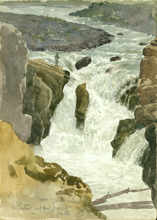 Drawing / Illustration. A.P. Coleman. "More Spray Below. White Upper Part of Fall," in Sketchbook 1a 1892