Demystifying Primary Sources for Historical Research
Researching Primary Sources in Digital & Online Collections
Nature & Scope of Digital Collections
Many primary sources have been digitized and are available online via digital collections.
A significant number of digitized primary sources began in a physical non-digital format. Online collections are scanned primary sources published on the Internet for both research and electronic preservation purposes. Digital collections include the same types of unpublished materials found in archives, in addition to published sources.
Finding Digital Collections
Digital collections are listed alphabetically by discipline on the main University of Toronto Libraries web site, under the section Databases.

Identify the broader discipline that studies the topic you are interested in. There may be more than one specific subject area.
For example, if you are writing your essay on the roles of women in the military or on the home front, use the collections listed under History, in addition to Women and Gender Studies.
Primary source collections are listed under the section Primary sources.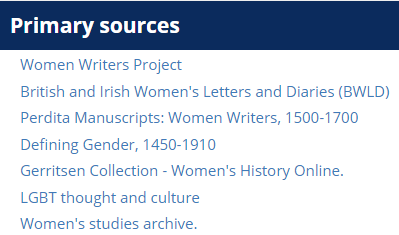 Searching Digital Collections
Some digital collections include secondary sources to help you understand the historical time period as well as social and cultural context in which some primary sources were written and published.
Look for sections such as "Nature and Scope," "About," "Using This Collection" or "Research Tools" and consult them before you begin searching.
Correspondence from German Concentration Camps and Prisons is an example of a digital collection. It includes letters from POWs to their families and friends received between 1940 and 1945.
The Detailed Description section specifies the scope of primary sources in the collection and provides the names of individuals associated with the letters.
Use these names as search terms in order to find digitized correspondence in the collection. For instance, Pierre Prunis was a prisoner who composed letters to his family in France.

It is also possible to search this resource with other parameters. For instance, use a name of a place, such as town or village, to find letters written in a particular locale associated with a POW camp.
created by: Agatha Barc & Colin Deinhardt | updated: 17 November 2017