Photograph Database Guide

Printer-friendly version

PDF version
Introduction
The Victoria University Archives maintains over 6000 photographs and albums in our collections. Individual items are described in our Photograph Database. Select images are digitized for access, but many of our photographs are only available to view at an in-person appointment.
Using the Photograph Database
There are a few simple strategies for searching the database.
Keyword: Enter a keyword. This could be a word identifying an event, sport, club, theatre production, etc.
Year: Enter a single year. There is no ability to search for date ranges or "fuzzy" dates.
Name: Most of the individuals in our photographs remain unidentified. If you are searching for someone specific, start with the last name then switch to other strategies to locate more images.
Accession number: Accession numbers are useful for bringing up all the images that were received in one accession. These numbers are located in our finding aids along with additional details on what can be found in that accession.
Your search results will appear in a list. You can sort the list in ascending or descending order by clicking on the Date or Title headings. By default the items are sorted by Title. Click on All if you want to see all the search results on one page. The camera icon indicates that digitized versions are available.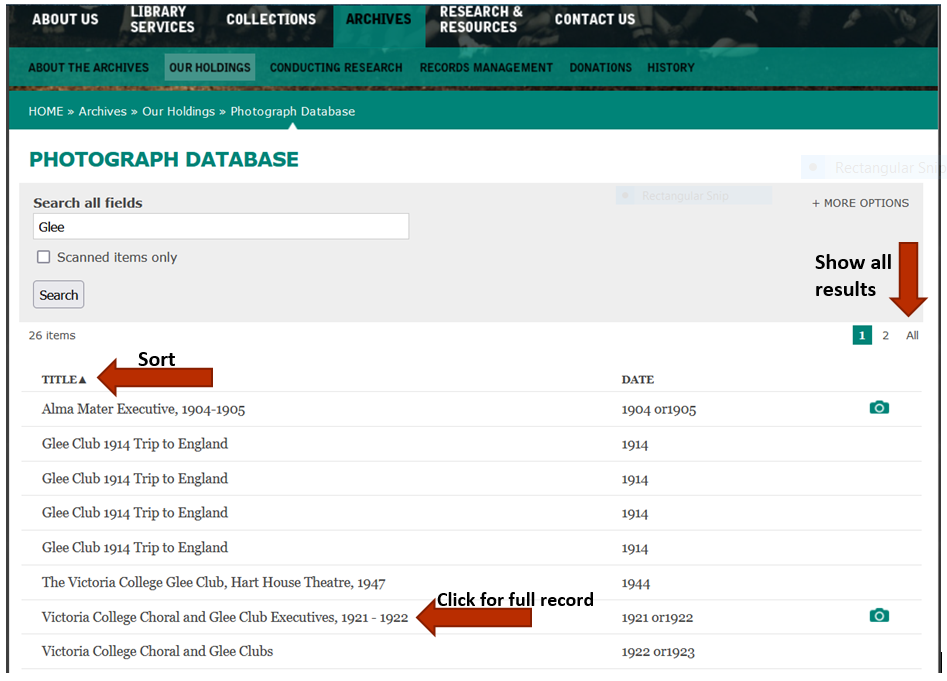 Click on the Title of the image to open and view the complete descriptive record, including any links to digitized images.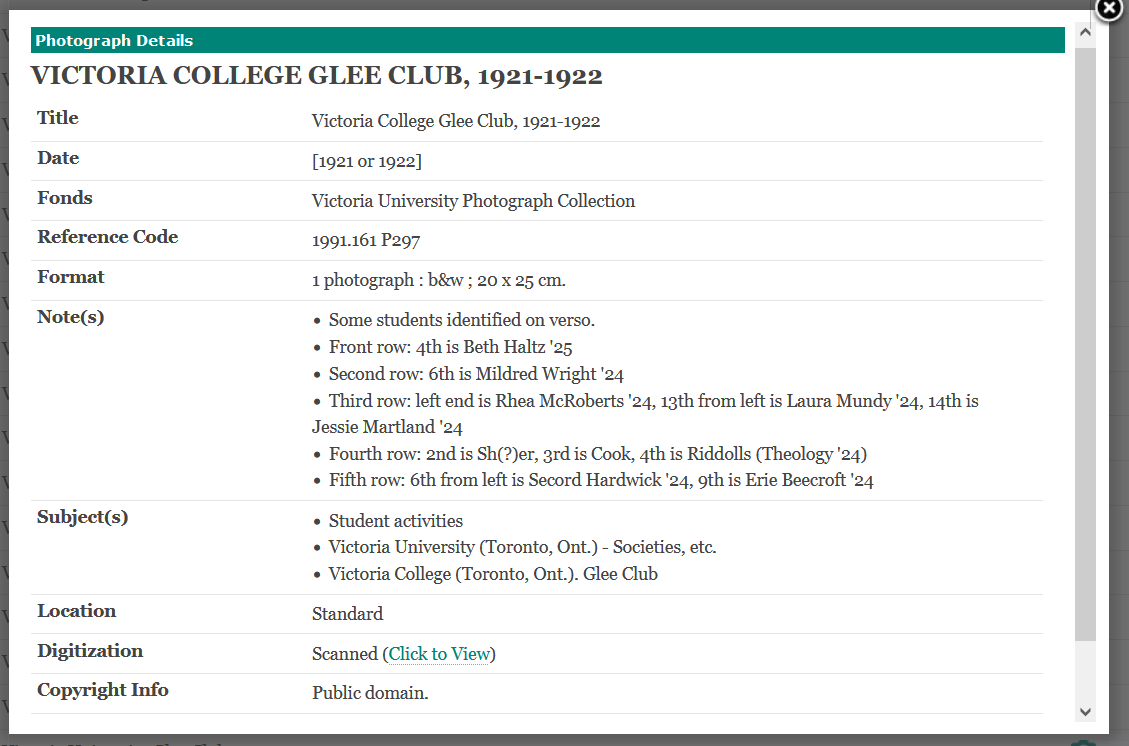 If you Click to View a digitized image you will be taken to our Digital Collections website. This is where scanned images are stored for access.
You can search Digital Collections directly, but when you do you are limited to searching only digitized images. Searching the Photograph Database allows you to search the entire photograph collection - both digitized and analogue images.
Requesting an Appointment to View Photographs
To request images to view in person, please record the Reference Code and Title of the images you want to see. Then contact the Archivist by completing the Appointment Request form. A minimum of two days advance notice is required. For more information on conducting research in person, please review our Conducting Research page.
Permissions for Reuse
There are two routes for requesting permission to reuse an image.
1. If you are viewing a digitized image on our Digital Collections website, look for the blue "Request Item" link below the image. This link will take you to a form where you can provide details about your request and view the terms and conditions of reuse. For images where there's an unrestricted option to download, note that the image will be watermarked and the quality may not be suitable for your needs.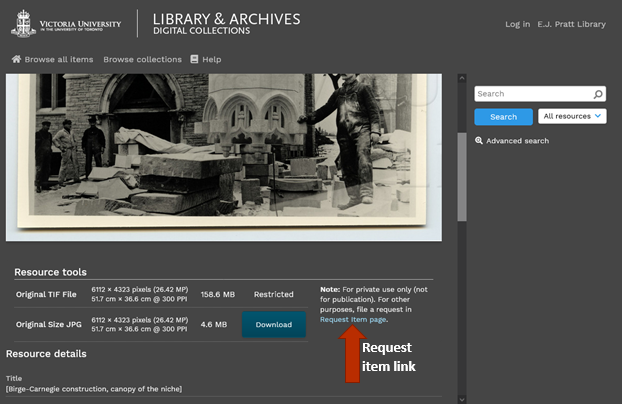 2. If you are requesting permissions for an image not available on the Digital Collections site, please archives [at] vicu [dot] utoronto [dot] ca (subject: Requesting%20Permission%20to%20Publish) (contact the Archivist) first.
We can only grant reuse permission to images where Victoria University holds the copyright. For all other images the researcher is responsible for obtaining the permission of the copyright holder in writing. In some cases, the Archivist has contact information for the copyright holder on file that can be provided on request.
Digitization Requests
It is possible to digitize some images on request. Please note that this can take time and fees may be required. Researchers are required to view the images in person first to make their selection as we do not have the capacity to digitize broad requests - only specific images. archives [at] vicu [dot] utoronto [dot] ca (subject: Digitization%20Request) (Contact the Archivist) for more information on requesting digitization.
Last updated: November 16, 2023