Demystifying Primary Sources for Historical Research
Finding Primary Sources in the Library Catalogue
Limit by Date of Publication
Primary sources were created at the time of the event under study or provide firsthand testimony or direct evidence about the topic under study.
As such, publications (books, newspapers, magazines, broadsides, pamphlets, etc.) can be primary sources if they provide direct evidence on your topic. So, one way to find these publications on your time period is to limit your search of the library catalogue by date of publicatiion.
First, search the library catalogue by keyword.

On the next page, use the filters on the left-hand side to limit the number of results. Scroll down to Publication Year to refine the list of titles by type of source.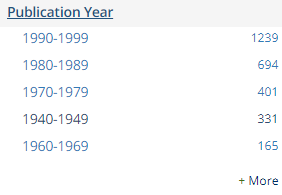 Click on + More to see all of the genres.
Note: not every source listed here will necessarily qualify as a primary source. Just remember the definition of primary sources when making your selection.
created by: Agatha Barc & Colin Deinhardt | updated: 17 November 2017