Demystifying Primary Sources for Historical Research
Finding Primary Sources in the Library Catalogue
Refine Keyword Search by Genre
In library collections, the term "genre" refers to the type of a source: diaries, letters, interviews, sermons, speeches, biographies, cartoons, maps, etc.
First, search the library catalogue by keyword.

On the next page, use the filters on the left-hand side to limit the number of results. Scroll down to Genre to refine the list of titles by type of source.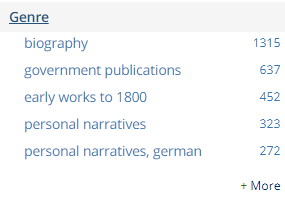 Click on + More to see all of the genres.
Note: not every "genre" listed here will necessarily qualify as a primary source. Just remember the definition of primary sources when making your selection.
created by: Agatha Barc & Colin Deinhardt | updated: 17 November 2017