Victoria College Book Sale
The 2023 Vic Book Sale is officially over.
Thank you to everyone who made the sale a great success.
Donation Drop-Offs
We are not accepting book donations at this moment.
We hope to resume receipt of books in October. Please check back for the start up date.
Donation Guidelines
We appreciate your interest in donating books to the book sale—your donation will greatly benefit Victoria University Library. There are some criteria on what our volunteers are able to accept.
We accept hard and soft cover books, vinyl, CDs and DVDs in all subjects in great condition.
Due to the nature of the booksale, we are unable to accept the following:
encyclopedia sets
journals or magazines
Reader's Digest condensed books
discarded library books
outdated or underlined textbooks
musty books
How to Pack Boxes
banker's boxes and liquor store boxers are preferable so our volunteers can lift them!
Driving Directions
Drive north on Queen's Park Crescent East, past Wellesley and St. Joseph Streets. Turn right into the driveway just before the pedestrian traffic lights, north of St. Joseph Street (see map and image below and Google Street View). Then turn left into the library delivery entrance. Use the intercom to the left of the double doors.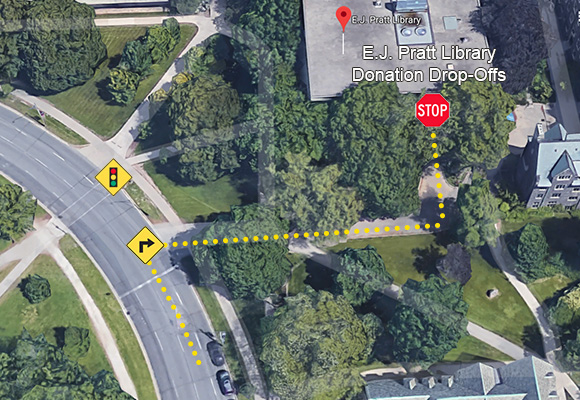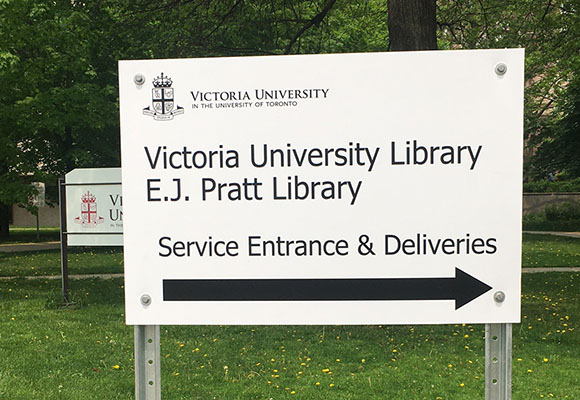 Please contact us if you have any questions about donations.
T (416) 585–4585 or (416) 585–4471
E vic.booksale@utoronto.ca