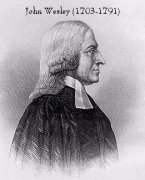 John Wesley (1703-1791)

This year is the 300th anniversary of John Wesley's birth.
The Wesleyan Exhibition presents a small sampling of the works of John Wesley drawn from
Victoria
University
's

Wesleyana

Collection.

 

The letters and artifacts are

 

from the United Church Archives located in the

Birge

-Carnegie building on the
Victoria
campus.
John Wesley was born on June 28, 1703 at Epworth, England, the fifteenth of nineteen children of Samuel and Susanna Wesley.  John received his early education at Charterhouse school and entered Christ Church College, Oxford University in 1720.  He was ordained deacon in 1725, and priest in the Church of England in 1728.  In 1726, he was elected a Fellow of Lincoln College and lectured in Greek and New Testament Studies.  Between 1727 and 1729, he assisted his ailing father at Epworth, but returned to Oxford at the insistence of the authorities, where he joined his brother Charles and several other young scholars in the Holy Club – a discussion group interested in holy living, charity and theological inquiry.
In 1733, he published a book of prayers for each day of the week, and in 1735, published an edition of Thomas A. Kempis', Imitation of Christ, thus beginning a publishing and writing career that spanned half a century.
After the death of his father in 1735, John accepted the chaplaincy in the Colony of Georgia and that same year left with his brother for the Americas.  With his knowledge of French, German and Spanish, his mission went well beyond the English settlers in the colony.  He translated several German hymns and published a hymn book in Charleston in 1737.  However, Wesley's high-church stance and an unfortunate love affair forced him to leave Georgia and return to England in 1738.
On May 24, 1738, John Wesley had a major conversion experience at Aldersgate in London which stimulated a renewed interest in  holy living, and his trust in personal salvation – "By grace are you saved through faith".  His study of Moravian and Arminian theology, as well as the Bible and the Church Fathers, further strengthened this trust.
In 1739, Wesley began what became a Methodist hall mark – field preaching.  Many Church of England churches were closed to Methodist preachers and Wesley followed George Whitefield's example and preached to the miners near Bristol.  For fifty years Wesley preached throughout Great Britain in chapels, collieries and farmer's fields, stirring an unimagined religious revival.  Denouncing both Anglican formalism and Presbyterian exclusiveness, he redirected Protestantism throughout the English-speaking world.
In 1744, he called together preachers committed to the Wesleyan revival and organized the first annual conference to forge strategy and establish a discipline for the Methodist Society.  After his death this conference continued to rule the church organization under the leadership of the Legal One Hundred.  During his lifetime, Wesley would not permit the society to form a church distinct from the Church of England or to hold services which competed with Anglican worship.  An exception was made in America however, to meet the specific circumstances of post-revolutionary conditions.  In 1784, Wesley ordained Thomas Coke as Superintendent for North America with power to ordain other bishops and priests.  At Christmas in 1784, Coke established the Methodist Episcopal Church in Philadelphia and this church oversaw Methodist missions in both the United States and what would later become Canada.
Over his long career, Wesley published hundreds of volumes of sermons, correspondence, journals, hymns and church services.  He also edited and published a fifty volume "Christian Library" of important theological works.  He edited the Arminian Magazine from 1778 until his death and continued to write on historical, literary, scientific and theological topics.
Wesley founded Kingswood school, helped organize the Sunday school movement, worked to abolish slavery in the British Empire and the United States.  He fought to improve social conditions of eighteenth century England and to overcome the social immorality of his times.  The bulk of his time, however,  continued to be taken up with constant traveling and preaching.  His life represents an amazing account of service and tireless activity.
For more information on the life and work of John Wesley or on Methodist history in Canada, contact: