The earth has undergone several ice ages in the past. What about the future?
At the present time glaciers everywhere are retreating, suggesting that we are slowly emerging from the Pleistocene ice age.
Only about half the area covered by ice has yet been set free; however, it has been suggested that if the remaining 6,000,000 square miles of ice are melted the level of the ocean will be raised about 150 feet. What effect this will have on the world's seaports, including New York, can readily be predicted.
With a little imagination one may picture Oslo or Rio de Janeiro – seaports with high ground in the rear to retreat – as sending palatial holiday cruisers to see New York's deserted sky scrapers rising as steep-walled bird rocks from a shallow sea; these changes go on very slowly, however, from the human point of view, and real estate owners need hardly worry over what may happen in a few thousand years.
ROM, December 1938

"Ice Ages in the Geological Column: Anniversary Day Address," Bulletin of the Geological Society of America,
50 (March 1939): 449-452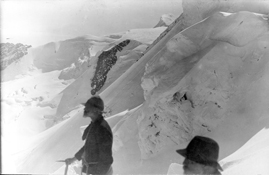 Photograph. George Kinney. "Where we lunched on 2nd party climb. Lynx range in background : 023." 1908 (L.Q. Coleman standing, A.P. Coleman seated)