James G. Endicott and Mary Elsie Austin met when they were Victoria University students. They graduated in 1924 and married a year later in Kent, Ontario. In autumn 1925 they set sail for China.
23 Oct 1925

Dear Jim & Mary,

     Just a few lines to catch the steamer on which you set sail. The great adventure is yours, and the hopes and plans of years are being fulfilled....

     I am sure your hearts will beat bravely as you set out, though there may be some moments or even many moments of plain human loneliness.  But you are to be envied and not pitied, and we are all counting on you both to make good in a deep big way...

       As ever yours, DAD*

*James Endicott, D.D., was secretary of the Board of Foreign Missions and soon-to-be moderator of the United Church of Canada.  In the same letter he gave an anxious piece of advice to his outgoing son: 'Finally on general principles you know it is wise on the mission field for, say, the first twenty-five years to keep eyes open and mouth shut.
The Endicott family prepared an extensive dossier giving a chronological account of Jim and Mary Endicott's life and work in China from 1925 to 1952. The Endicott photographs found in the exhibit have been extracted from this document.
Sources:
Endicott Family. "Vic in China: Introduction to the Endicott family portion." Document Sent to L. Sherlock.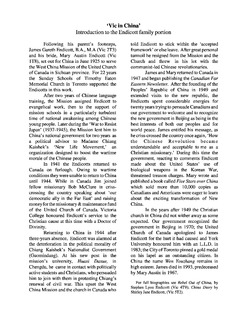 Endicott Family, "Vic in China: Introduction to the Endicott family portion." Document sent to L. Sherlock