Northrop Frye, 1912–1991


A Biographical Sketch
Early Life, Education and Victoria College
Herman Northrop Frye was born in Sherbrooke, Quebec, in 1912, of Canadian parents.  He received his primary and secondary education in Moncton, New Brunswick, followed by a business training course.  In 1929 he entered Victoria College in the University of Toronto and graduated in 1933 in the Honours course in Philosophy and English, standing first in first class honours each year.  After graduation, he completed the theological course in Emmanuel College and was ordained in the United Church of Canada in 1936. Realizing that his vocation lay in university teaching, he went to Merton College, Oxford, and received the Oxford M.A. in 1940, after graduating with first class honours in the English School.  He joined the Department of English in Victoria College as a Lecturer in 1939, and became Assistant Professor in 1942, Associate Professor in 1946, Professor in 1947, Chairman of the Department of English (Victoria College) in 1952, and Principal of Victoria College in 1959.  On January 1, 1967, he retired from the Principalship and became University Professor in the University of Toronto, remaining also a Professor of English at Victoria. He was Chancellor of Victoria University from 1978 until his death in 1991.

Acta Victoriana group photo, Torontonensis, 1933. Frye is in the front row, third from the left; Helen Kemp is in the front row, first on the right.
Publications, 1947–1969
Fearful Symmetry: A Study of William Blake, 1947
Anatomy of Criticism, 1957
The Well-Tempered Critic, 1963
The Educated Imagination, 1963
T.S. Eliot, 1963
Fables of Identity, 1963
A Natural Perspective, 1965
The Return of Eden, 1965
Fools of Time, 1967
The Modern Century, 1967
A Study of English Romanticism, 1968
Publications, 1970–1989
The Stubborn Structure, 1970
The Bush Garden, 1971
The Critical Path, 1971
The Secular Scripture, 1976
Spiritus Mundi, 1976
Northrop Frye on Culture and Literature, 1978
Creation and Recreation, 1980
The Great Code, 1982
Divisions on a Ground, 1982
The Myth of Deliverance: reflections on Shakespeare's comedies, 1983
Northrop Frye on Shakespeare, 1986
No Uncertain Sounds, 1988
Northrop Frye on Education, 1988
Publications, 1990–1993
Myth and Metaphor: Selected Essays (1974–1988), 1990
Words with Power, 1990
Reading the World – Selected Writings (1935–1976), 1990
The Double Vision, 1991
A World in a Grain of Sand: Twenty-Two Interviews with Northrop Frye, 1991.
He edited fifteen books, contributed essays and chapters to over sixty others and published over one hundred articles and reviews. From 1950 to 1960 he wrote the annual critical and bibliographical survey of Canadian poetry for Letters in Canada, University of Toronto Quarterly.

Frye's publications (covers). From left to right, Fearful Symmetry: a study of William Blake., Anatomy of Criticism: four essays., The Bush Garden: essays on the Canadian imagination., Great Code: The Bible and Literature.
Awards and Honours
He was made a Fellow of the Royal Society of Canada in 1951.  In 1958 he received the Royal Society's Lorne Pierce Medal;  the Canada Council Medal in 1967, the Royal Society's Pierre Chauveau Medal in 1970, the Molson Prize in 1971, and the Royal Bank Award in 1978 for distinguished contributions to Canadian literature.  In 1987 he won the Governor General's Literary Award for Non-Fiction for Northrop Frye on Shakespeare and was the recipient of the Toronto Arts Lifetime Achievement Award.  He received the Mondello Prize in Italy in 1990 for his lifetime dedication to literature.  He was selected a Foreign Honorary Member of the American Academy of Arts and Sciences in 1969 and was made a Companion of the Order of Canada in 1972.  In 1974 he was made an Honorary Fellow of Merton College, Oxford, and received a Civic Honour from the City of Toronto.  He was made a Corresponding Fellow of the British Academy in 1975, a Foreign Member of the American Philosophical Society in 1976, and an Honorary member of the American Academy and Institute of Arts and Letters in 1981.  He was a Trustee of the English Institute, of which he was Chairman in 1953, and a member of the Executive Council of the Modern Language Association of America from 1958 to 1961, after which he became Chairman of its Nominating Committee.  He rejoined the Executive Council of the MLA in 1974 and became President in 1976.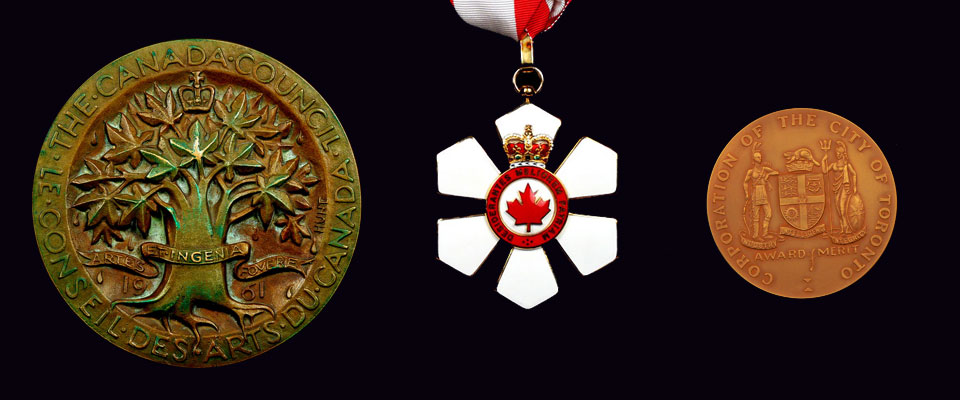 From left to right, Canada Council Medal, 1967. (front), Order of Canada medal, 1972. (front), City of Toronto Merit award, 1974. (front)
Involvement in Professional Associations
From 1948 to 1952 he was editor of The Canadian Forum.  He was Chairman of the English Sub-Committee of the Governor General's Literary Awards Committee from 1959 to 1962, and became Chairman of the whole Committee in 1962.  From 1960 to 1963 he was a member of the Board of Governors of the Ontario Curriculum Institute, and of its Executive Committee.  He was a member of the National Council of Teachers of English Commission on Literature, and of the Scholarship Committee of the American Council of Learned Societies.  He was an advisory member of the Canadian Radio-Television and Telecommunications Commission from 1968 to 1977.
Teaching Career
While Frye spent his career teaching at Victoria College, he also lectured at over one hundred universities all over the world and taught full term or summer sessions at Harvard, Columbia, Princeton, Indiana, Washington, British Columbia, Cornell, Berkeley and Oxford.  He gave many special lectures for endowed lecture series and received honorary degrees from universities in Canada, the United States and in Europe.  He was an Andrew D. White Professor-at-Large at Cornell University from 1970 to 1975 and was Charles Eliot Norton Professor of Poetry at Harvard University for the year 1974-75.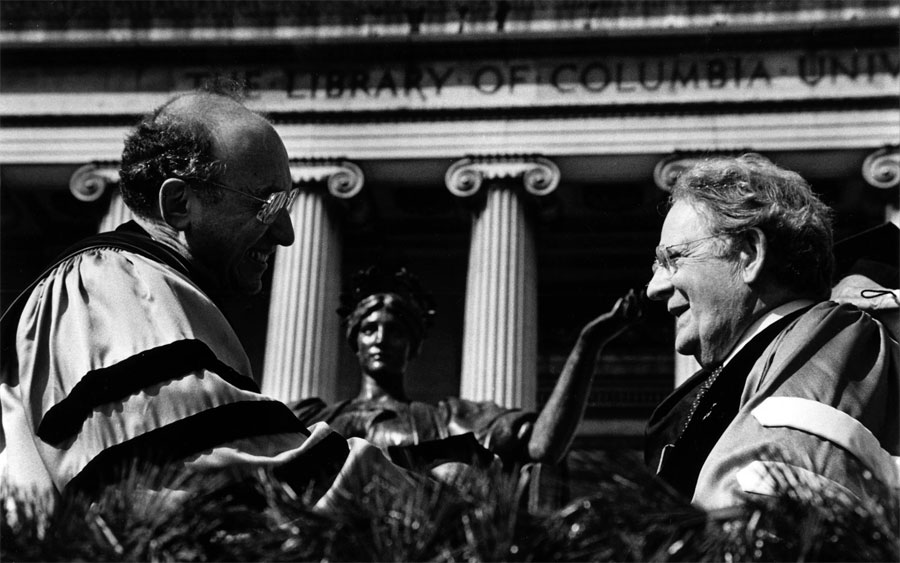 Photograph. Frye receiving honourary degree from Columbia University, New York, 1983.
Frye's Legacy: English Literature Curricula
Northrop Frye had a considerable influence on the planning of curricula in English and on the teaching of English in elementary and secondary schools throughout the United States and Canada.  In particular, he was Supervisory Editor of a series of text books with the covering title of Literature:  Uses of the Imagination published by Harcourt, Brace, Jovanovich, Inc.
Works About Frye
Critical discussions and guides to his work continue to be published beginning with Northrop Frye in Modern Criticism (Columbia University Press, 1966) and most recently with the publication of Robert Denham's Northrop Frye Handbook in 2012. The Collected Works of Northrop Frye completed publication this year, numbering thirty volumes with the publication of the index.
Learn More
The Northrop Frye Collection, E.J. Pratt Library
Educating the Imagination: A Conference in Honour of Northrop Frye on the Centenary of His Birth
(October 4 – 6, 2012 at Victoria University in the University of Toronto)