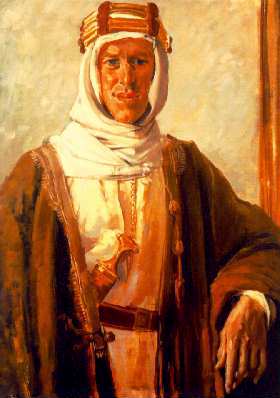 Thomas Edward Lawrence, popularly known as 'Lawrence of Arabia', was more than the dashing soldier of fortune depicted in David Lean's film. Lawrence was an authority on the history of the crusades, military history and archaelogy, and an expert in guerilla warfare who was well- versed in intelligence operations. His character provoked varying responses, and he seemed to be at once regarded as self-aggrandizing and self-effacing; a man who "backed into the limelight", but wrote poetry and essays, often requesting that his name not appear on his published work. He translated from Greek and French; and for a time he reviewed books regularly for a weekly journal. As his efforts towards the production of Seven Pillars of Wisdom suggests, Lawrence had a love for books and for printing and had hoped to have his own press after he retired from the military. He died before fulfilling this ambition.
More information on Lawrence can be found in Wikipedia.

Seven Pillars of Wisdom
The title, Seven Pillars of Wisdom, comes from the Book of Proverbs 9:1 where Wisdom is personified as a good woman enlightening mankind (the whole of Proverbs is a 'wisdom-book'): 'Wisdom hath builded a house: she hath hewn out her seven pillars. Give instruction to the wise man, and he will yet be wiser: teach a just man, and he will increase in learning.' However, it has been questioned whether the title had any relation to the subject matter of Lawrence's book.
In 1913, Lawrence wrote a book entitled Seven Pillars of Wisdom, 'a moral symphony' which recounted adventures in seven cities of the East. He later burned his early effort, but in its memory, he named the later work.
Three drafts were written and one earlier edition of the Seven Pillars was published prior to the 1926 edition. The earliest manuscript, written in 1919, was lost by Lawrence at Reading Train Station. A later draft, written from memory, was re-worked into a third draft. Lawrence sold the first three chapters to Robert Graves and they were published between July and October 1921 in The World's Work, an American journal. The three chapters of Seven Pillars of Wisdom published in The World's Work are all that remain of the second version. Lawrence was dissatisfied with it and eventually burnt it with a blow lamp in 1922.
Though Lawrence felt that the story in the third manuscript was "diffuse and unsatisfactory", eight copies were printed in 1922 by the Oxford Times staff. The volumes were large and the text was printed in double column lino-type. This is considered the first English edition of Seven Pillars, and it was not available for sale to the public. Of the original eight, six copies remain extant. The first readers of this edition included Bernard Shaw, E.M. Forster, Thomas Hardy, Rudyard Kipling and Siegfried Sassoon.
In December 1923, Lawrence, David Hogarth , Guy Dawnay, and Lionel Curtis conceived of the idea to produce 100 copies of Seven Pillars at thirty guineas a copy if sufficient subscribers could be found. An edition of 230 copies resulted. Subscribers were requested to write to Lawrence for details and conditions. Published in December 1926, the book weighed five pounds.
Copies of the book were privately printed by Manning Pike, an American studying at the London School of Printing, and C.H. Hodgson and bound by some of London's foremost bookbinders: Sangorski and Sutcliffe, Macleish, Wood, Harrison and Best. The copy in Victoria University Library is bound by Best.
Other copies of the 1926 Subscribers' Edition are held by the New York Public Library.
No author's name, printer's name, or place of publication, appears on the title page. In addition, each book had a different binding in order that there be no first edition, in the collector's sense.
The Binding
| | |
| --- | --- |
| | Victoria University Library's 1926 edition of Seven Pillars of Wisdom is bound by Best. Text and decorations printed by Manning Pike with the assistance of H.J. Hodgson at 25 Charles Street London, W11. Plates by Charles Whittingham and Griggs. |
| | |
| --- | --- |
| The appearance of the printed page was so important to Lawrence that he altered the text in order that words not be divided at the ends of lines and all paragraphs finished in the second half of the line. | |
Illuminated Initial Letters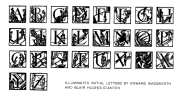 A major feature of the layout of the book is the use of illuminated initial letters, or 'bloomers', for the first letter of the first word of a new chapter or other pages commencing with a new paragraph, in the top left hand corner of the text. These decorative initials were executed in the 'vorticist' style by Edward Wadsworth and Blair Hughes-Stanton. Lawrence altered the text in order that no initial letter appear twice and going to the extent of inventing an Arab name beginning with the letter X (Xury, the Druse Emir of Salkhad, on p. 430 at the start of Chapter LXXXII) for the single appearance of that letter.
From Not a Suitable Hobby for an Airman, by V.M. Thompson. Oxford: Orchard Books, 1986
The Art of the Book
The 1926 privately printed Subscribers' Edition of Seven Pillars of Wisdom is an important visual document, for it preserves a partial cross section of English art of the 1920s. It contains a total of 125 illustrations, and the majority of them, apart from tail-pieces reproduced in the text, were in colour. The art ranges from landscapes, to portraits of the Arab and English principals of the Palestine-Arabia campaigns, to comic line drawings and 'vorticist' art. Works were commissioned from an impressive list of British and American artists. The art of Eric Kennington, Frank Dobson, Colin Gill, Augustus John, Henry Lamb, William Nicholson, William Roberts, William Rothenstein, Gilbert Spencer, Paul Nash, Blair Hughes-Stanton and John Singer Sargent are represented.
---
| | |
| --- | --- |
| | A listing of these illustrations, providing the name of the artist and page references, is corrected and signed by Lawrence, with the initials T.E.S. Lawrence had legally changed his name to T.E. Shaw in 1927. |
---
Kennington did most of the portraits of the Arab principals. However, Lawrence remarked that "English people all look alike, in dress anyway: so to make an extra variety I'm out to have the dozen drawn by different artists."
General Sir Edmund Allenby (1861-1936)
Commander-in-Chief in Egypt and Palestine, 1917-18. Later, Field Marshal and Viscount; High Commissioner in Egypt, 1919-25.
Pastel Portrait by Eric Kennington
George Lloyd (1879-1941)
Arab Bureau. Later: Lord Lloyd. Governor of Bombay, High Commissioner in Egypt, Secretary of State for Colonies under Churchill.
Oil Portrait by William Roberts
---
Emir Feisal (1855-1933)
Ruled in Syria in 1919-20, then ousted by the French. King of Iraq, 1921-33.
Oil Portrait by Augustus John
---
David Hogarth (1862-1927)
Director of the Ashmolean Museum. Commander in the Arab Bureau. Also, involved with the publication of the Subscribers' Edition of Seven Pillars of Wisdom.
Charcoal Portrait by Augustus John
---
T.E. Lawrence
Pencil Drawing by Augustus John
The Augustus John line drawing was done in a two minute sitting while Lawrence was looking out the window of Augustus John's Paris flat. Lawrence was delighted with it, and it was included in Seven Pillars. As well, it provided the frontispiece of Revolt in the Desert.
---
Brigadier-General Guy Dawnay (1878-1952)
On Allenby's staff. Assisted with the 1926 edition of Seven Pillars.
Pencil Drawing by Henry Lamb
---
Ronald Storrs (1881-1955)
Oriental Secretary in Cairo. Lawrence called him "the most brilliant Englishman in the Near East." Later, Governor of Jerusalem, of Cyprus and of Northern Rhodesia.
Charcoal Portrait by John Singer Sargent
---
Night Bombing
It was the age of machinery, and 'vorticism', an artistic style which glorified the machine, is apparent in the work of William Roberts. Roberts' work became Lawrence's favourite of all the Seven Pillars art.
Line drawing by William Roberts
---
Camel March
Pen and Wash Illustration by William Roberts
---
After reading the Oxford edition of Seven Pillars, Eric Kennington was "moved to incongruous mirth" and produced a number of comic sketches which Lawrence felt lightened the load of the work. "Its good that someone is decent enough to find laughter in a stodgy mess of mock-heroic egotism."
Wind
Line Drawing by Eric Kennington
---
A Forced Landing
Line Drawing by Eric Kennington
---
Caesar
Line Drawing by Eric Kennington
---
Library Home
| Vic Home