The difficult journeys by boat up the Yangtse.  
An account of travelling from Ichang to Chungking in a letter written by Charles Bridgman in February 1913.
... We came by steamboat from Shanghai to Hankow, then by a smaller steamboat to Ichang.  One passenger steamer with little baggage or freight accommodation plies between Ichang and here.  The gunboats also come up, but the river is treacherous, and most of the passengers and freight traffic is by houseboat and cargo boat.  These are flat-bottomed boats built of ½ inch stuff and drawing 2 ½ to 3 ½ feet of water.  They dangle at the end of long bamboo hawsers drawn by the trackers which attach their lines much as the dogs are attached in the north country at home.  Each has a separate "trace" as he attaches his own line and has little liberty to select his path.  The passage of the larger rapids is slow and somewhat dangerous, but generally extra ropes are put on and the different sets of trackers help one another up the rapids, as there is generally quite a little fleet waiting at the foot.  These trackers, like tens of thousands, yes, millions of the people of this country toil like beasts of burden from daylight till dark with a very small remuneration beside their rice.  It seems strange, but these trackers,  though they are hired, have a task master over them much as though they were slaves.  He carries a piece of bamboo rope about three feet long.  Of course it doesn't hurt like some clubs or whips one sometimes sees, but I know it must have hurt some, and I have seen a boss tracker stripped to the waist wearing only a pair of short trousers and pair of straw sandals, going up and down the line of trackers, laying it on with both hands with all his might till he was in a perspiration.  We were well out in the river and could hear the thumps clearly.  He kept it up for a couple of hours.  There may have been some sort of mutiny at the bottom of it all, or a general disposition to shirk.  At any rate, I didn't see such another outburst on his part, and when walking on shore a few days later, saw this same boss tracker taking his turn at one of the track lines.  (They all have periods of rest when they walk without smiling – one or two at a time.)  He was leading the "song" of the trackers – a sort of weird chant with a short chorus in which all joined, and they were going together, like clockwork keeping perfect time to the chant.  All seemed contented, and indeed it is refreshing to see the cheery faces of many of these fellows under this life of monotonous toil.
Junk on the Yangtse Credit: Jones Family / Jean Zamin.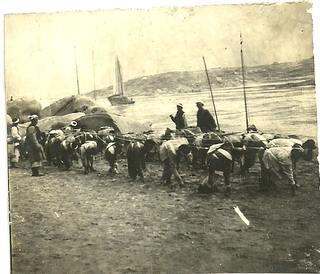 Trackers on Yangtse Credit: Bowles Family / David Rutherford.
Yangze River Bank Credit: Jones Family / Jean Zamin.
Junk with trackers, group of missionaries in the water beside the boat Credit: Best Family.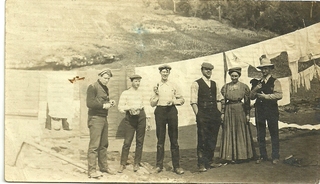 Happy Bunch on the Yangtse, likely 1907. From left: Newton Bowles, Dr. Jim Cox, Ed Wallace, Harold Robertson, Mrs. Robertson, Wesley Morgan. Credit: Bowles Family / David Rutherford.
Yangtse Steampship Credit: Walmsley Family.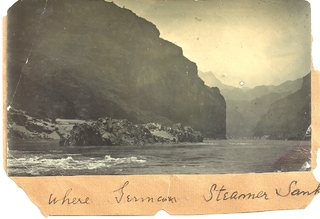 Where the German Steamer Sank Credit: Bowles Family / David Rutherford.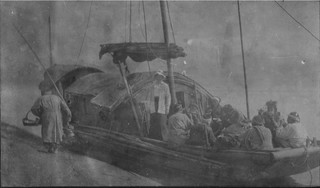 Travel by Junk, 1911 Credit: Best Family.
Houseboat, 1911 Credit: Service Family, Johns Family.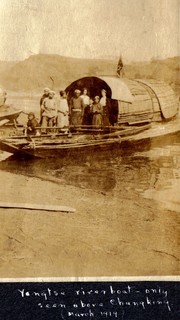 Yangtse river boat - only seen above Chungking (March 1919) Credit: Kilborn / Walmsley Family.
Junks with steamer in the background, [undated] Credit: Walmsley Family.