THE QUEEN AND THE HEROES OF INDIA. 1857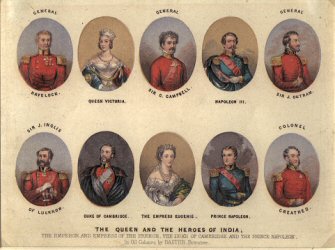 Reading from left to right on the top row they are: (1) General Havelock; (2) Queen Victoria; (3) General Sir C. Campbell; (4) Napoleon III; (5) General Sir J. Outram; and on the bottom row (6) Sir J. Inglis of Lucknow; (7) Duke of Cambridge; (8) the Empress Eugenie; (9) Prince Napoleon; and (10) Colonel Greathed.
The set was published about the time of the Indian Mutiny.