Wesleyana Collection
Artifacts and Manuscripts
"Wesley Wedgwood" Teapot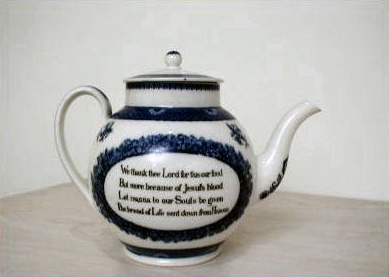 We thank thee Lord for this our food
But more because of Jesus blood
Let manna to our Souls be given
The bread of Life sent down from Heaven

Be present at our Table Lord
Be here and everywhere ador'd
These creatures blefs & grant that we
May feast in Paradice with thee

This teapot is a nineteenth century reproduction of the famous teapot presented to John Wesley by Josiah Wedgwood in 1761. The original teapot is preserved in Wesley's house on Chapel Road, London. Rev. John Cennick wrote the inscribed "Wesley Graces". The teapot's design is said to have been copied from Wedgwood's wife's apron and is called "Calico" or "Wesley Wedgwood".
Wesleyana Tea Cup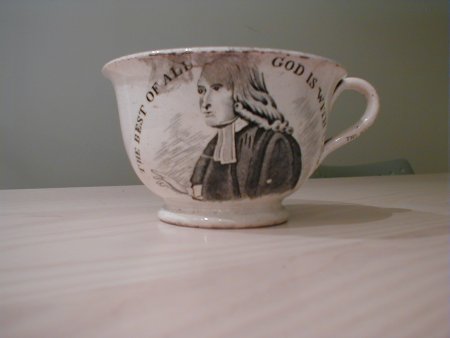 THE BEST OF ALL GOD IS WITH US
These were Wesley's final words from his deathbed.
Commemorative Creamer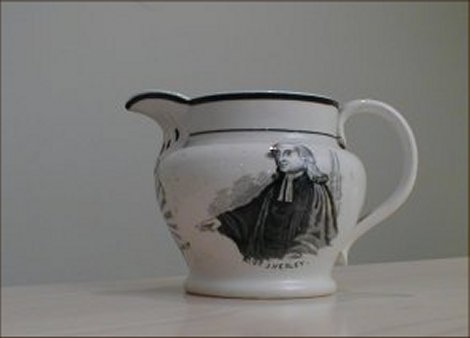 In the last half of the nineteenth century, an outstanding event was the celebration of the centenary of the Wesleyan Movement. It was decided to date this from the formation of the "United Societies" (the first formal organizational structure) in 1739, rather than from the conversion experience of John Wesley on May 24, 1738. In 1839, centenary events were celebrated by Methodists everywhere. British Methodists produced a large quantity of commemorative pottery, including plaques, plates, busts, mugs, jugs and general tea ware.
Love Feast Porcelain Plate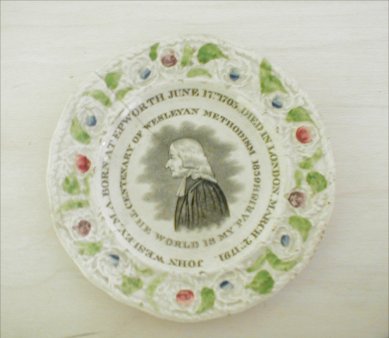 JOHN WESLEY, M.A. BORN AT EPWORTH JUNE 17th 1703 DIED IN LONDON, MARCH 2nd, 1791 CENTENARY OF WESLEYAN METHODISM 1839
John Wesley first introduced the Love Feast, or Agape, to the Fetter Lane Society in London. It became an integral and important part of the devotional life of Methodism. Its popularity lessened after World War I. In Canada, the Love Feast was observed quarterly. During the one-hour service, hymns, prayers, testimonials, an offering for the poor, and a blessing were given. However, to differentiate the Love Feast from a Communion Service, bread or plain white cake was broken into small portions and placed on a porcelain plate. A Loving Cup with two handles were provided for water. In 1925, this tradition ceased with Church Union.
Wesley ceramic busts by Josiah Wedgwood
Few men have had as many carved and moulded effigies made of them as John Wesley. These range from the mid-eighteenth century caricature carved from the vertebra of a horse, to the superbly modeled late eighteenth century busts by Enoch Wood. Wesley busts, plaques and figures were made of wax, wood, ivory, metals and other materials, but it is ceramic items that are most numerous.
The ceramic busts on display are from the studios of Josiah Wedgwood (1730-1795), a famous British potter and creator of the Wedgwood China.
Manuscripts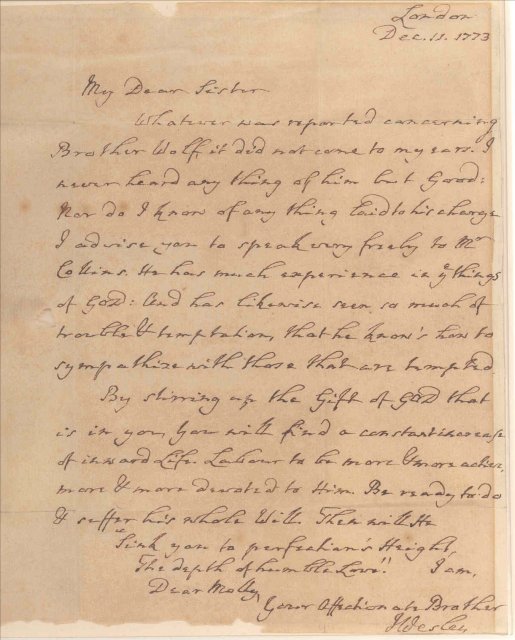 Letter from John Wesley to his sister Molly..., 1773, December 13. Original. John Wesley fonds, 97.002C 2 - los