The 1913 map of the Sudbury Nickel Region that accompanied the Nickel Report, was famous in its time. Coleman's colleagues E.S. Moore1 and Frank D. Adams2 in their memorial addresses and articles, signaled that the Sudbury Nickel Map was one of Coleman's most notable accomplishments: "it … enjoyed a wider circulation than any other geological map" and "is of special value as a most valuable and illuminating presentation of the general structure of the whole region and of the mode of occurrence of the ore bodies, on which account it has attained a world-wide celebrity."
Although there has been much controversy over the origin of the Sudbury ores, Coleman's geology was paid high tribute by mine operators because in their words, "it works." His reports and maps played a significant role in locating some of the most important ore deposits in the region.
In the fall of 1913 Coleman led a sight seeing trip to Sudbury as part of the 12th International Geological Congress. Guidebook No. 7, prepared by Coleman, highlighted his field work in the area.
1. E. S. Moore, "Professor Arthur Philemon Coleman," Bulletin of the Canadian Institute of Mining and Metallurgy [1939].
2. Frank D. Adams, "Memorial to Arthur Philemon Coleman," Proceedings of the Geological Society of America, 1939)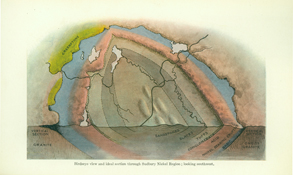 Map/ Diagram. A.P. Coleman, 1913, "Birds eye view and ideal section, through Sudbury nickel region, looking southwest." The Nickel Industry: frontispiece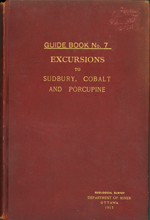 Published work. A.P. Coleman, 1913, Cover, Guidebook No. 7 Excursions to Sudbury, Cobalt and Porcupine: (Excursions A3 and C6). Toronto: Ontario Bureau of Mines.